Media Release, 28 NOV 2016, Jakamo Limited
Jakamo, a Finland-based startup providing a collaboration platform for manufacturing companies has doubled its customer base to 1300 this year. Customers are located in over 40 countries around the world. At Slush, the company will perform on stage and introduce a new generation of the service including the cross-company Teams feature.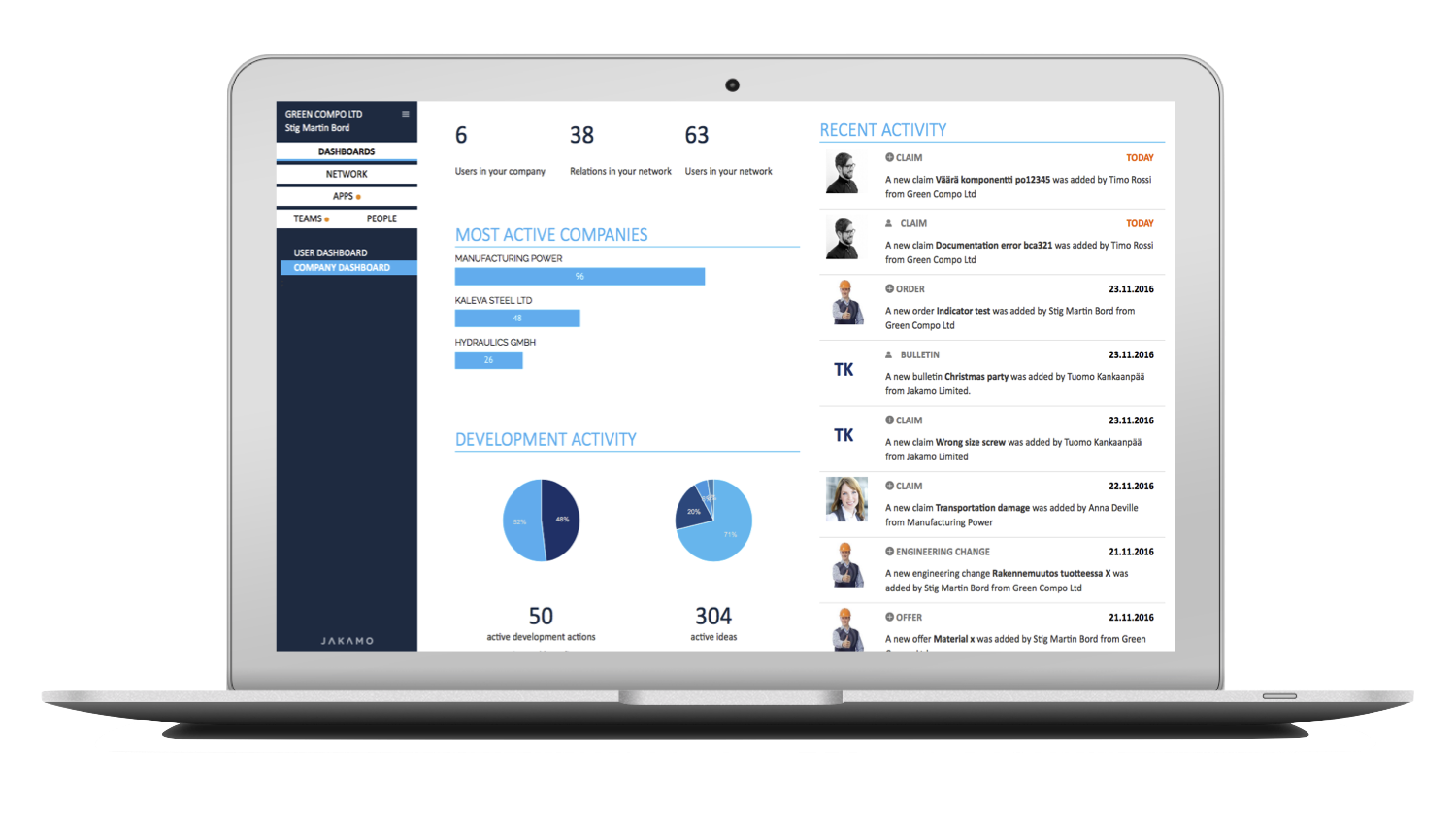 By using Jakamo, customers can collaborate in a secure way faster and easier, which increases the white-collar productivity and speed of business. "Jakamo solves a chronic problem of scattered information sharing between manufacturing companies. Our customers have achieved a 60 % reduction in received emails", says Anssi Uitto, CEO & Co-founder of Jakamo. "In addition, these customers have transformed the data laying in inboxes into valuable real-time knowledge available for decision-making", Uitto continues.
The new Teams feature allows users to establish cross-company teams with internal and external users. This is a vital functionality in a highly networked manufacturing ecosystem. "Today, value is created in business relationships. Manufacturing workers have different expectations of interaction, information sharing and decision-making than 20 years ago. Therefore, transparent and effective information sharing across company borders is crucial especially for the manufacturing companies", states Jarl Matti Anttila, CMO & Co-founder of Jakamo.
The launch of the new Jakamo will take place at #slush16 at the stand of Microsoft Flux on November 30, 2016. Along with Teams feature, Jakamo will introduce a new user interface and integration options to Microsoft products such as Office365, SharePoint and Skype for Business. Jakamo will also perform on stage in Slush. Jakamo is one of the companies, which is selected for the Slush100 Pitching competition.
Jakamo in a nutshell
We are on a mission to transform the collaboration of manufacturing companies. Jakamo is a collaboration platform that connects customers and suppliers in the manufacturing industries. In Jakamo, companies typically share orders, claims, engineering changes and RFQs. The service is free to use for any company, with enterprise subscription plans available for advanced users.
Follow @thejakamo | Visit jakamo.net | Media room jakamo.net/media
Additional information and material
Jarl Matti Anttila, CMO & Co-founder
Mob. +358 41 439 2582
Emal. matti.anttila@thejakamo.com