Take your supply chain processes to next level with Jakamo Supplier Experience Platform
Your ERP, PLM, BI, and other internal software require the best solution to connect with the whole supply base and provide an exceptional supplier experience.

Platform designed for manufacturing processes
Jakamo is the supplier experience platform connecting customers and suppliers smoothly and securely across the manufacturing ecosystem.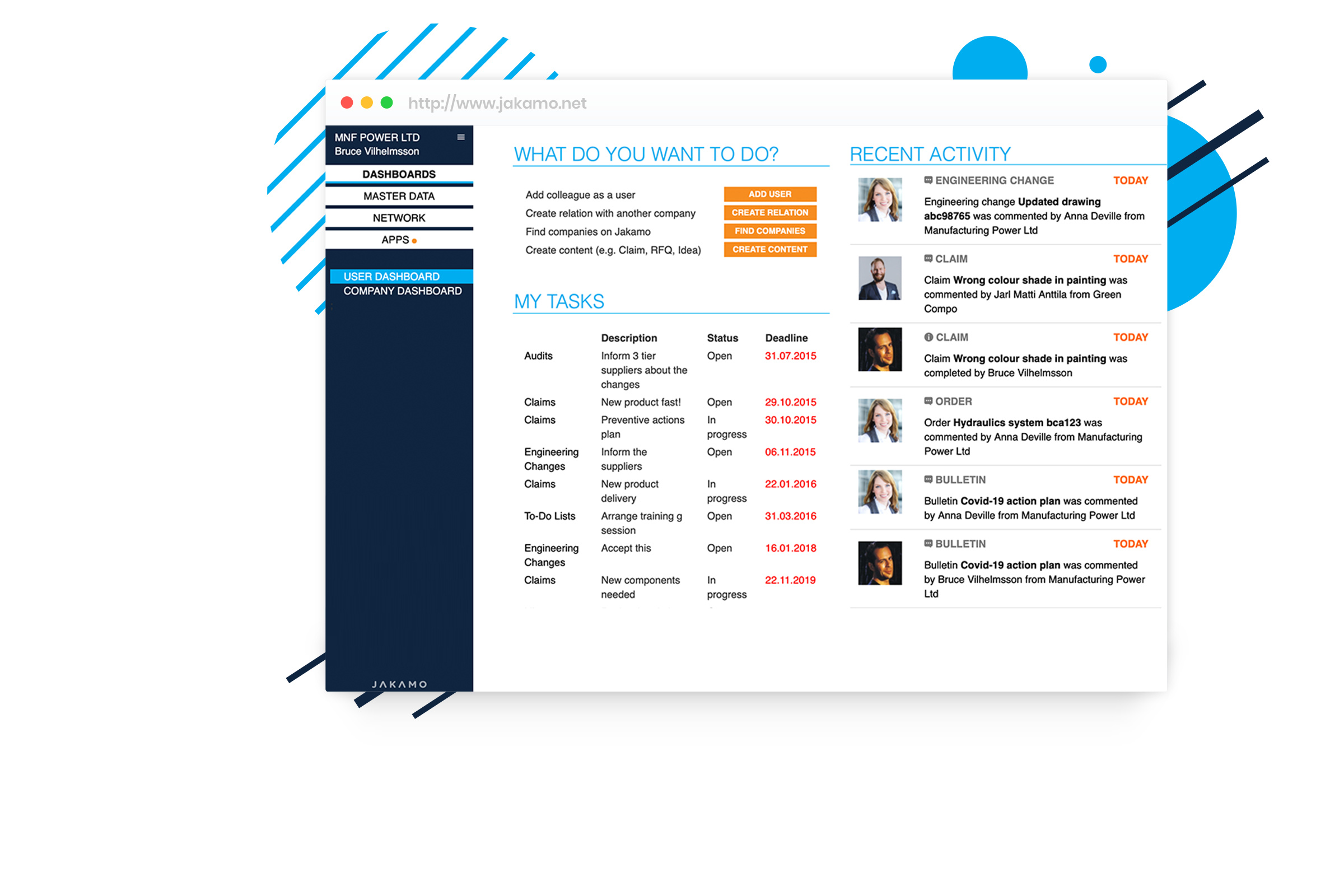 Manufacturing ecosystem
Jakamo is a vertical platform that serves the manufacturing ecosystem. It's designed by the procurement professionals of world-class manufacturing companies.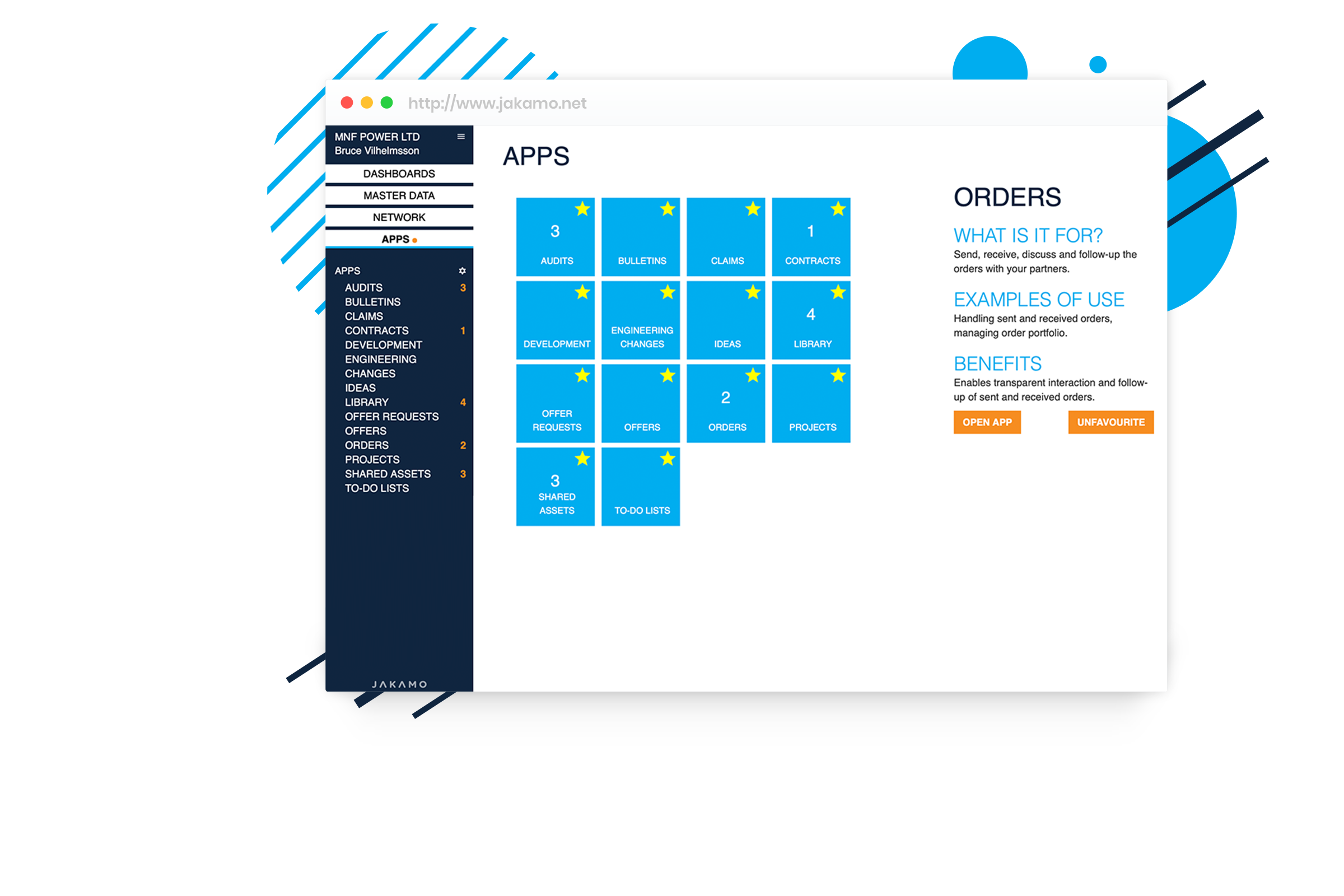 Everything a manufacturing company would require
Jakamo is a holistic platform covering most supply chain processes that are executed between customer and supplier including POs, RFQs, Forecasts, Claims, Engineering Changes, Audits, Agreements, Shared assets and Master Data.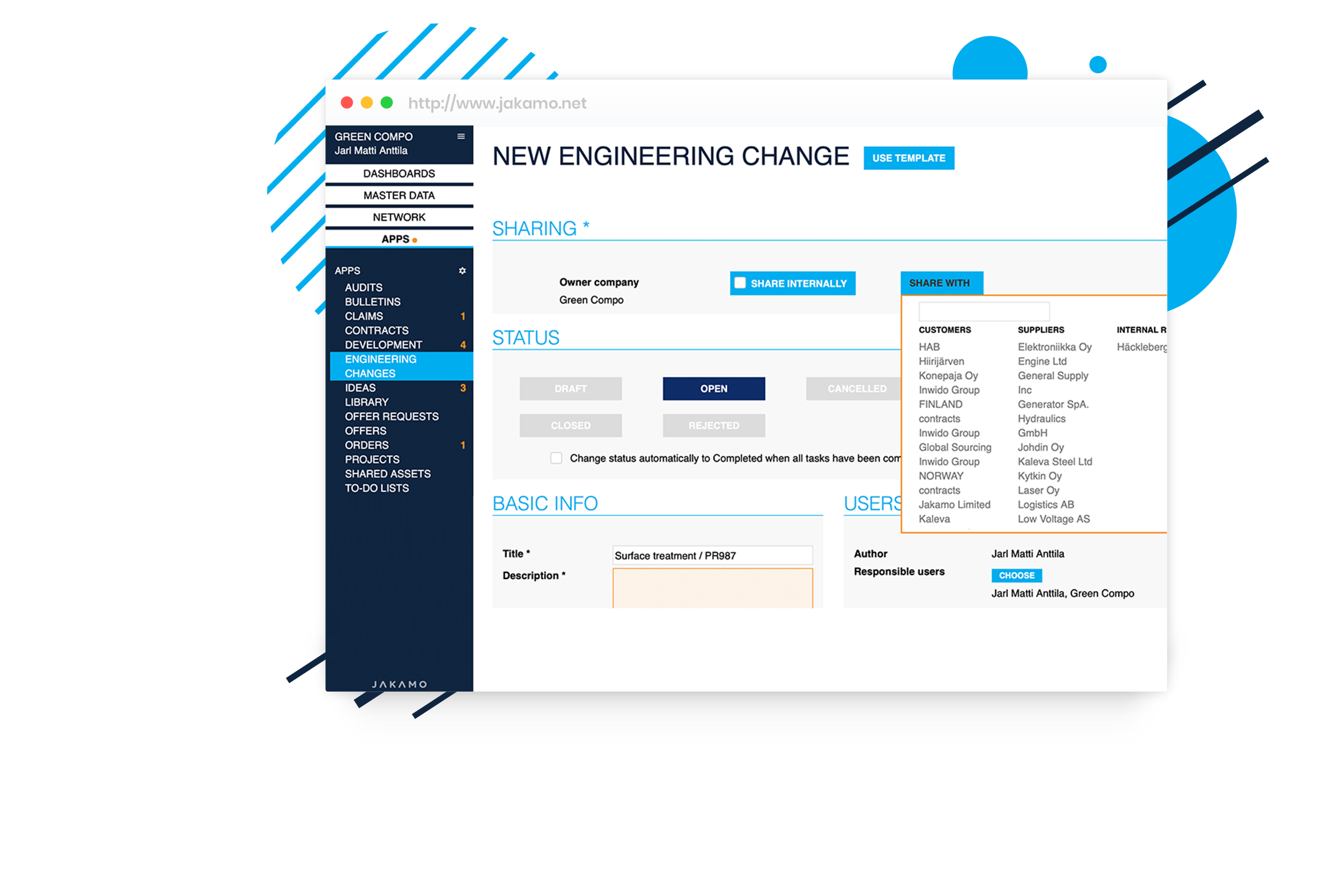 Software as a Service (SaaS)
As a SaaS solution, the platform is developing continuously and new features are released on weekly basis. All new features are available for all users immediately without any extra development costs. The pricing is based on monthly based subscriptions and suppliers can use Jakamo free of charge.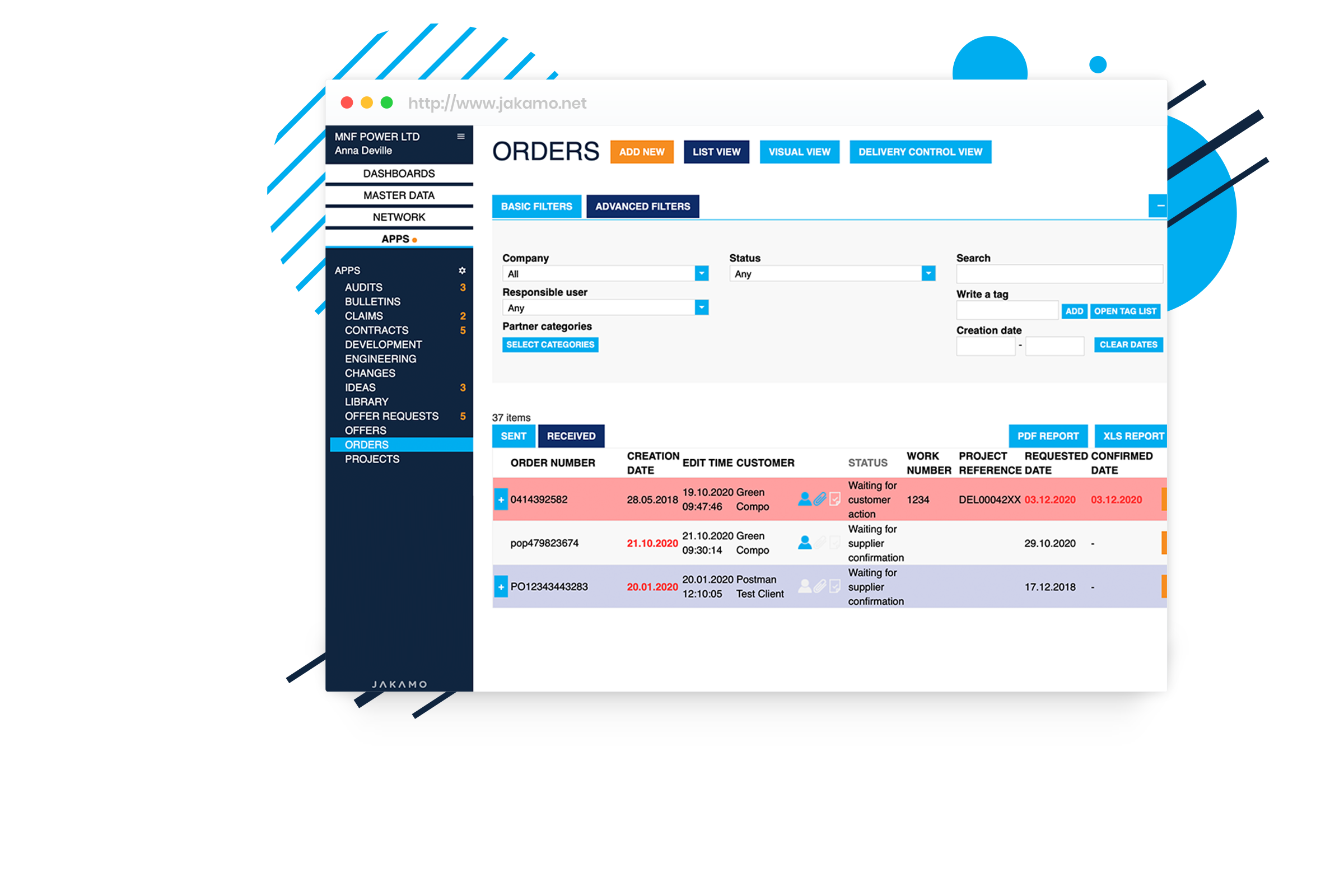 Replacing manual processes
Jakamo is a holistic platform covering most supply chain processes that are executed between customer and supplier. Not only purchasing and sourcing processes but also supplier quality, supplier development and supplier compliance processes.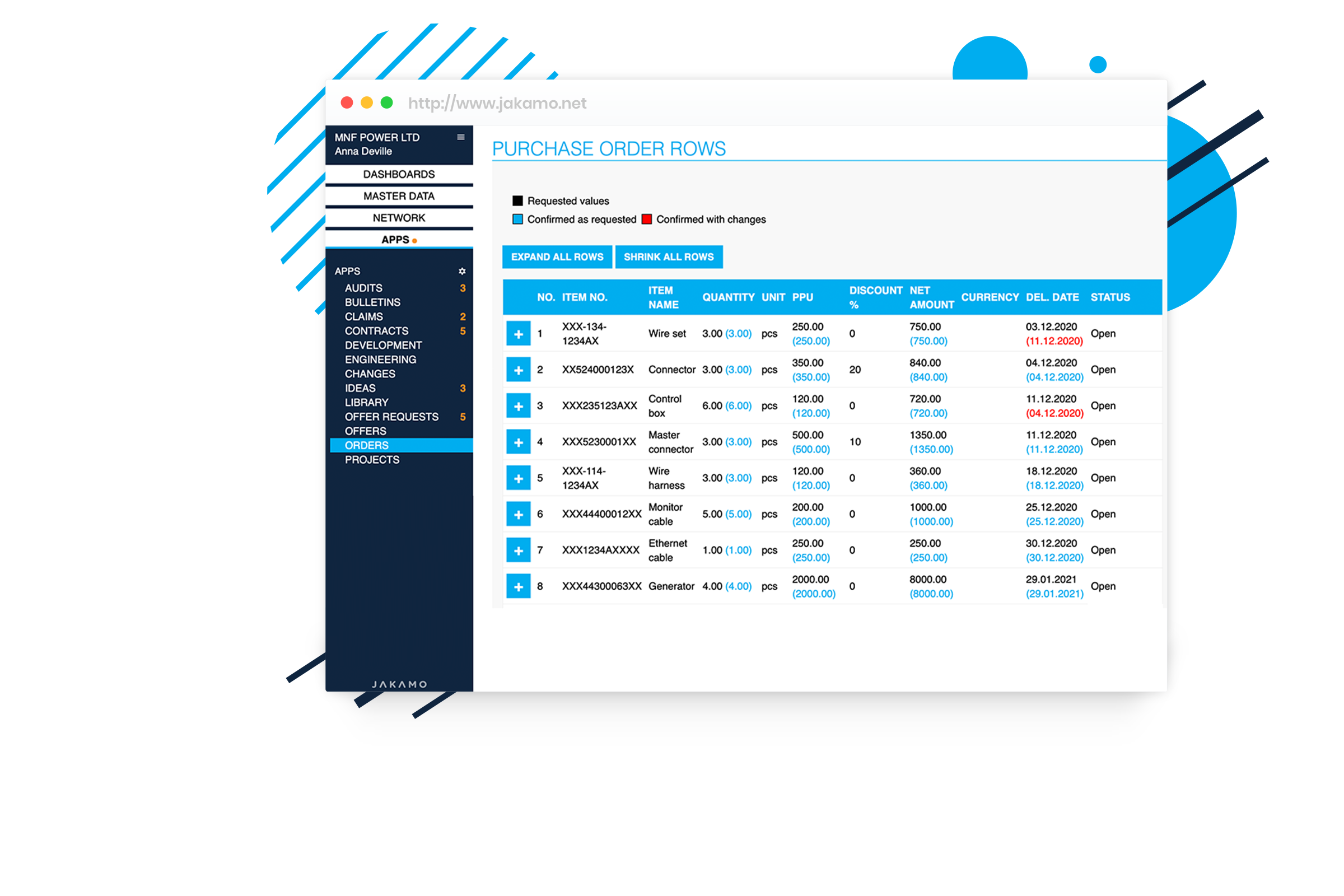 Builtin communication functionalities
Jakamo brings the interaction into the context, meaning that the communication can be held in the same place where the data is. All discussions are transparently available and visible for both customer's and supplier's users. This ensures fast dialogue between the companies and decreases the email traffic dramatically.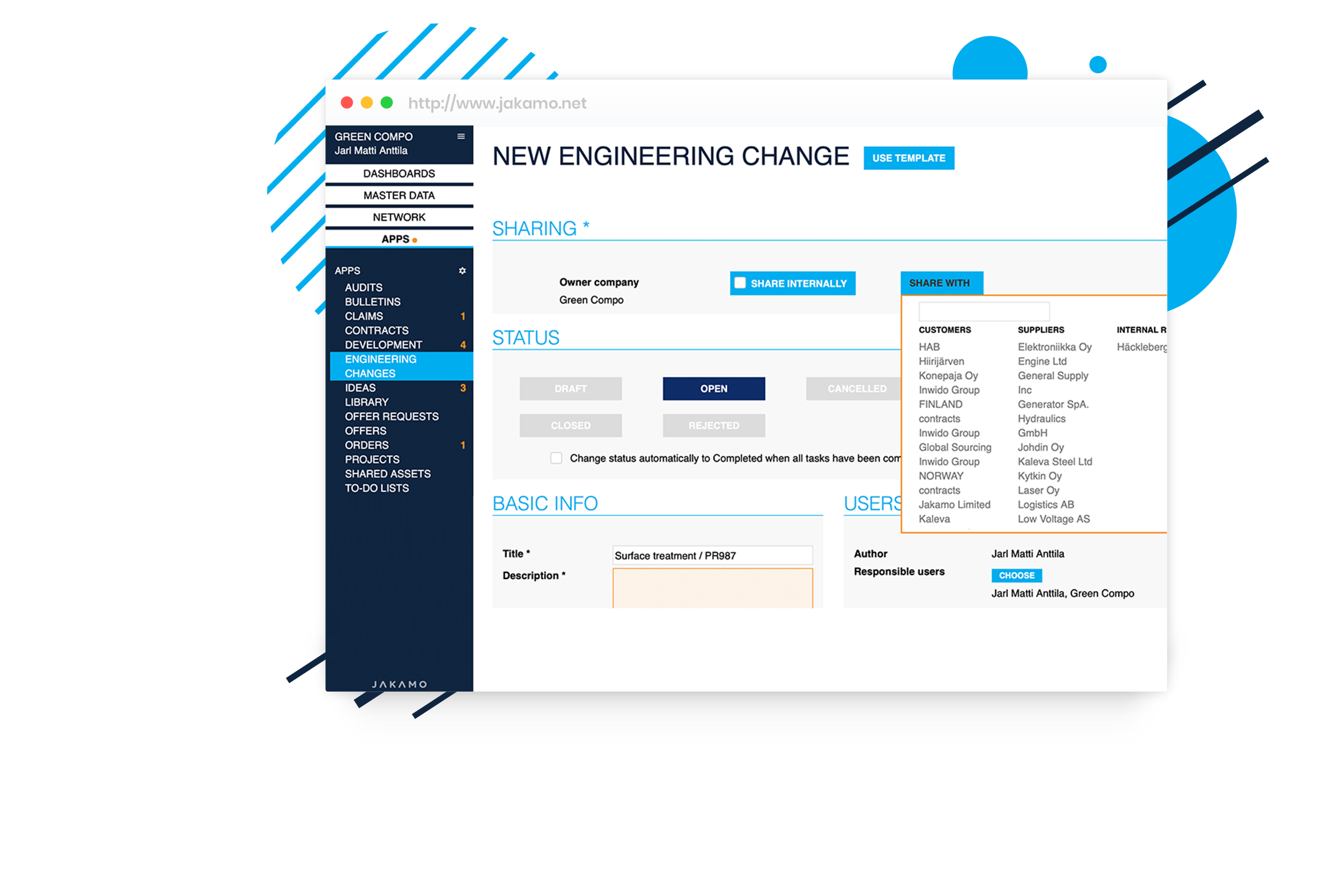 Easy and reliable
The onboarding into the Jakamo Platform is made super easy. It allows a smooth and short time to value and financial impact. The reliability of service uptime, scalability and data security together with the user experience are Jakamo's core values.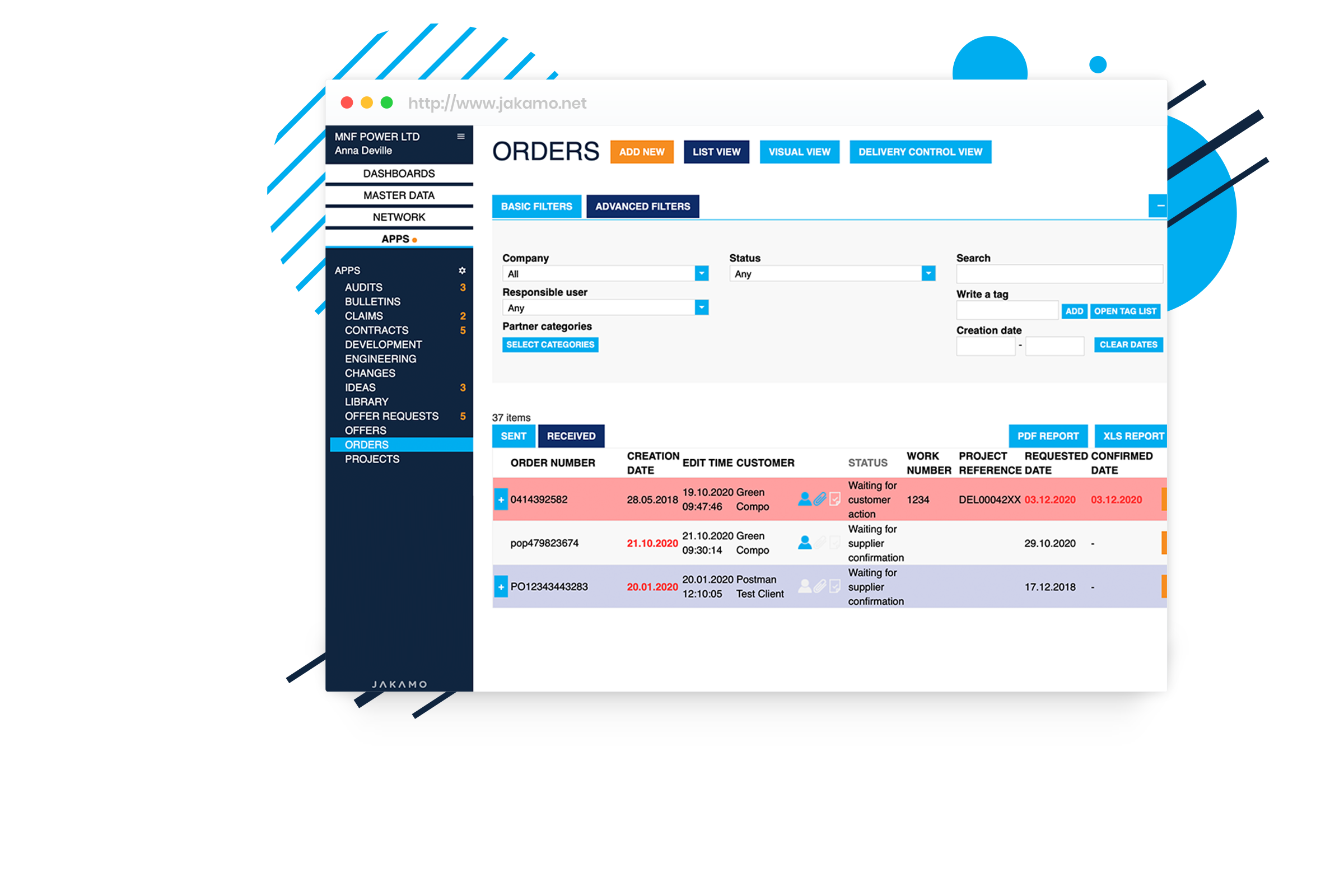 Microsoft preferred solution
A Microsoft preferred solution is a cloud application selected for its quality, performance, and ability to address customer needs in a certain industry vertical or solution area. A team of Microsoft experts validates solutions from partners with specific proven competencies and capabilities. Preferred solutions on AppSource can be discovered by industry verticals. Preferred solutions on Azure Marketplace can be discovered across horizontal solution categories.

Why Jakamo?
There are probably hundreds of reasons why Jakamo would be the best fit for your supplier collaboration.
Latest news
Explore our blog for insightful articles, personal reflections and ideas that inspire action on the topics you care about.
View all news
Six reasons why our customers select us
1. Holistic approach
Wide scope covering most supply chain processes designed for manufacturing companies.
2. Easy connectivity
Well-documented APIs ensure easy and fast connectivity with internal systems.
3. Shared environment
Jakamo is a shared environment connecting the companies in the manufacturing ecosystem. Both customer and supplier can enjoy the benefits.
4. Supplier experience
Our mission is to provide an excellent supplier experience during the supplier onboarding and daily actions in Jakamo.
5. Interaction covered
Jakamo brings the interaction into the context and decreases dramatically the email traffic between the companies.
6. Fast response in service
We are small and agile. We treat every development request fast and engage with all of our customers to see how the new feature would benefit them.