Media release | 18 October 2016 | Jakamo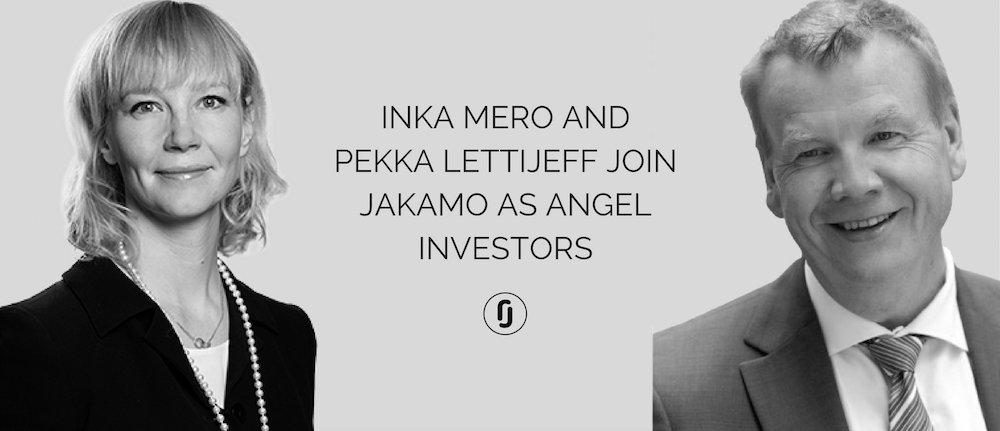 Jakamo, a startup providing the global collaboration platform for manufacturing companies – welcomes startup investor Inka Mero and SCM executive Pekka Lettijeff into the team. Mero joins Jakamo as an investor and advisor and Lettijeff as an investor and member of the board.
Inka Mero is an executive, entrepreneur and technology investor. Her expertise is the new global business build – from startups to corporations. Currently she is a member of the board in several companies such as Fiskars, YIT and Nokia Tyres, and Chairwoman at Pivot5 accelerator. Pekka Lettijeff is one of the most recognized Nordic SCM executives. He has led supply chain management into world-class success in several manufacturing corporations including Konecranes, Nokia and General Motors.
 "Jakamo empowers business critical information flows and data-driven ecosystem creation between manufacturing companies. The collaborative data enables Jakamo's customers to transform their supply chain operations in to a completely new level, Inka Mero states.

Inka Mero
"Real-time visibility is a strategic cornerstone to success in managing a customer oriented supply chain. Jakamo's collaboration platform supports customer to improve supply capability, reduce lead-times, improve quality of data and increase process efficiency in a highly competitive environment. The cloud-based common service enables fast, secure and cost efficient data sharing with all companies in the supply network", Pekka Lettijeff says.

Pekka Lettijeff
"Inka and Pekka both have complementary knowledge and wide experience from the manufacturing industry and cloud business. That helps us to develop Jakamo service and business towards even higher customer orientation", says Anssi Uitto, CEO and Co-Founder of Jakamo. "By identifying the future needs of collaboration between manufacturing companies we are able to provide supreme value for our customers", Uitto continues.
Jakamo in a nutshell
Jakamo is a collaboration platform that connects customers and suppliers in the manufacturing industries. Unlike the traditional systems, Jakamo makes the shared information available in real-time for both customer and supplier's employees. In Jakamo companies typically share orders, claims, engineering changes, audits and RFQs. Sharing information is easy, fast and secure. The service is free to use for any company, with enterprise subscription plans available for advanced users. Jakamo serves over 1000 manufacturing companies, small and large, in 40 countries around the world.
Follow @thejakamo
Visit jakamo.net
Media room jakamo.net/media
Additional information and material
Jarl Matti Anttila, CMO & Co-founder
Mob. +358 41 439 2582
Emal. matti.anttila@thejakamo.com